Latest FlipBook Creator Professional Is Now More Functional
Hong Kong, China – FlipBook Creator Professional has just released version 1.8.8 for Windows, and with that comes more functionality than ever before. The easy to use interface of the FlipBook Creator Professional makes this software a great choice for those delving into publishing pdf to flash page flip online.
Version 1.8.8 of FlipBook Creator Professional introduces three new features. These features include the bookcase for completed publications, the hi-tech camera function when reading publications, and the bookmark tab that allows readers to apply colorful bookmarks to pages when they are reading.
FlipBook Creator Professional allows users to begin creating their flipping book in just a few clicks. Users can import PDF files and have full control over what they import. Between defining the page range, setting the watermark, and defining page quality and size, users have full control over their flipbooks with this software.
For easy design features, FlipBook Creator Professional allows users to choose a template upon beginning the creation of their flipbook. There are free templates and themes that are pre-configured for users, thus requiring no graphic design or flash knowledge to get started.
Once operating the template, further customizations are available in the left design setting panel. Here, users can edit or add a title, logo, button, font, and various other design elements to help spruce up the e-book. Multimedia can be implemented inside of the flipbook as well; FlipBook Creator Professional supports the usage of video, image, link, SWF flash, text, and audio.
When the publication is done, the creator can convert the project to the page flip book and upload their publication online with ease. Not to mention, those who hope to distribute their e-book can do so by burning the project to a CD or DVD.
Learn more about the FlipBook Creator Professional version 1.8.8 at http://flippagemaker.com/flippingbook-maker-pro/index.html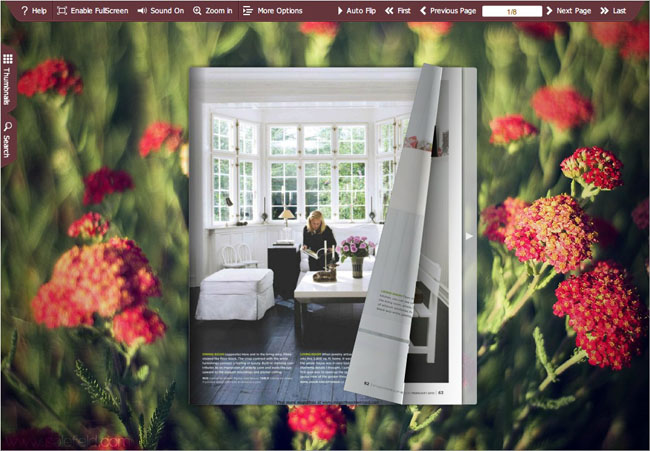 About Flippagemaker:
Flippagemaker Business Software Group, as the indispensable supplementary to online publications product line, mainly offers digital publishing tools for business and personal work. They are committed to providing users with the best digital printing solutions and bringing users the ultimate experience for digital publishing products.