Introduction of Two New Features in Latest Digital Magazine Creator
Honh Kong, China – Permitting the designer to turn PDF files directly into electronic digital flipbooks, The flipbook software, FlipBook Creator v3.8.8 is added two new features. These include "BookCase" for offering creatively attractive, user friendly interface for display eBooks, additionally make it an easy task to share flipbooks on the internet. The bookmark tab allows designer to set bookmark with captions, page indexes, and also colors, on the left panel of the main screen.
To begin with, people must import a PDF by simply clicking the "Import PDF" option. A new screen shows and people can browse the source of the PDF file and define page range to import. And here, people can also set watermarks for flipping pages, decide imported quality and size of their files. Checkboxes to maintain pre-existing bookmarks and links, detecting wide pages, and also permitting visitors to search the particular flipbook, are provided.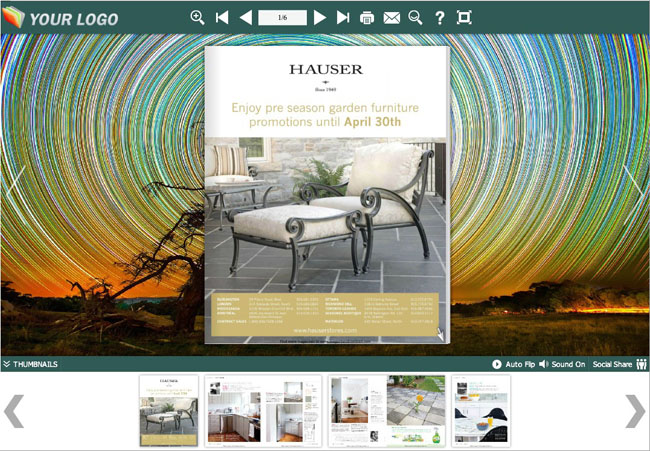 After the PDF is imported in to the page flip software, it really is time to select a template and theme. On the top of the left hand panel, templates interface can be open by clicking a button under the "Design Setting" tab. A screen is popping up to show Classical Float, Neat, and Spread templates and themes. Users can select and apply any one they like in only a second.
In the left design setting panel, users can design book title, logo, font, and buttons for the appearance of the pdf to flipbook. Simply by pressing each one of these setting items and also selecting options for respective dropdowns, the particular options for the templates and the flipbook can be built. The complete process will take a few moments and the electronic e-book will be accomplished. Only one step remains: start up and finish the conversion, which can be completed simply by clicking on "Convert to Flipping Book" option at the top middle of the display screen.
Once the conversion is completed, people can easily distribute their works on the internet by Upload Online Service. People can easily share their flipbooks on a web site or perhaps on social platforms such as Facebook.
FlipBook Creator 3.8.8 allows anyone to create flash flipping book from PDF file and then share it online. Regarding more information, down load the free trial, and buy the software at http://flippagemaker.com/flippingbook-maker/index.html.
About FlipPageMaker Ltd.
FlipPageMaker Ltd., situated in China, focuses primarily on goods for instance digital publishing programs, business software, and also PC tools. It's got pioneered many computer software goods in which permit people change files into digital flipbooks for use by a business or for personal satisfaction. The company offers attentive customer care and also continually improvements the software according to consumers' concerns.