3D Page Flip Business Invites Its Users to join In the Annual Meeting
Hong Kong, China – The annual meeting of 3DPageFlip Software Co., Inc., held March 15, 2013, was attended by ten software users invited to share their experience and provide suggestions. These experiences and suggestions represent the company's dedication to constantly improving upon its products based on the feedback of everyone who uses them.
Hosted by Same Hwang, Senior Software Engineer, and Sharry Hou, SEO, of 3DPageFlip Software Co., Inc., the meeting featured a number of professionals who use the flipping book software. One was Jack, an online store owner who sells health care products. The store owner said that the software optimizes the way in which the product catalog can be shown, while the search feature has helped customers find the products they need and in little time.
Also attending the meeting was Mary, a cartoonist. The 3D PageFlip software she uses aids in publishing the cartoons on her blog, which are shared with others on Facebook. Mary expressed great satisfaction in how easy the software has made it to publish and that it has proved to be extremely cost-effective.
The 3d flip magazine software has proven useful for both professional and casual users, but online business have found its features especially beneficial and cost saving. In addition to the ability to add numerous multimedia features, text, and backgrounds to virtual flip books, it includes the ability to add functions for easing navigation for readers. These include thumbnail navigation, with thumbnail images of pages in each e-book, allowing readers to quickly get to the product or content pages they want. For an online business, this enables customers to quickly browse product catalogs, encouraging them to purchase items found faster than alternative methods.
Users can also create a table of contents, providing a list of what is featured in the virtual flip book. This provides online businesses with a tool for organizing e-books and catalogs. For readers, this means they can locate pages of interest without flipping through the entire book. Organized sections help to solidify a business as an authority and be more appealing to customers.
Numerous other features in flip book PDF tool let users edit text and add multimedia such as video, music, photo albums, links, and flash effects. The links to e-commerce pages are invaluable to online businesses. Customers can go directly from the book to the order page without looking away from the screen.
To learn more about how the company's software can be good for online business, go to www.3dpageflip.com/index.html.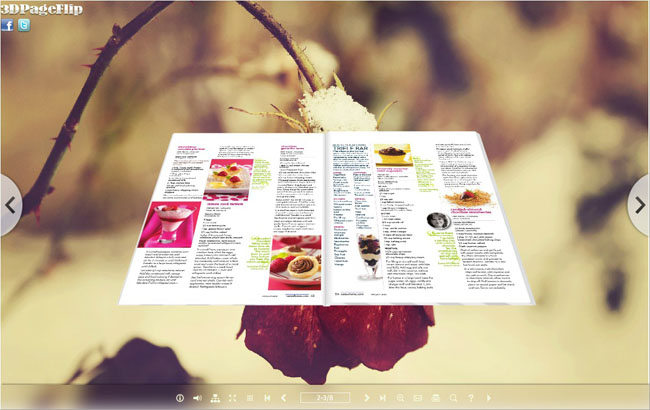 About 3DPageFlip Software Co., Inc.
A 3D eBook tool software company based in China, 3DPageFlip Software Co., Inc. has created numerous titles such as 3D PageFlip Professional and other editions in the series. The software allows users to convert PDF files to virtual flip books, while other converters are available to work with documents in popular formats. Established in 2008, the company has contributed to the success of online businesses and among those in digital publishing.